PIXIE TANGERINES
PIXIE TANGERINES — The Pixie Tangerine is actually a variety of Mandarins. Somewhat difficult to grow, the trees take several years to reach maturity, producing an abundant crop every other year. Produced in small quantities at Ojai and Fallbrook, California, this variety is mainly grown on small family farms. Big or small, smooth or knobby, this juicy tangerine varies greatly in appearance, size and shape. One trait is for sure: their exceptionally sweet flavor is consistent!
Tangerines, as well as other citrus fruits, offer a source of vitamin C, potassium and dietary fiber. Ideal for low-acid diets, Pixie tangerines have a lower acid content than many citrus varieties.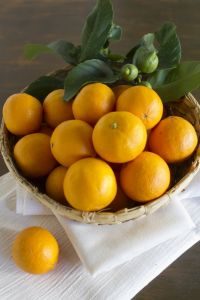 Add this tasty little tangerine to wake up mixed green salads. Sections make perfect edible garnish for most anything! Add to gelatin molds — ideal for a healthy portable snack!
Storage: Keep at room temperature, or refrigerate for longer storage. Do not store in plastic as that encourages premature spoiling. Pixie tangerines are good keepers!
Pixie Tangerine Cake
Vegetable oil cooking spray
2-1/2 cups all-purpose flour
1-3/4 cups sugar
1 teaspoon baking powder
1-1/2 teaspoon baking soda
1/2 teaspoon salt
3 eggs, beaten
1 cup vegetable oil
1 8-oz. container sour cream
1 cup tangerine juice
1 tablespoon tangerine zest
Sour cream frosting (sprinkle with tangerine zest for added color)
Preheat oven to 350°F. Spray 2 9-inch circular cake pans with cooking spray. In a large bowl add the flour, sugar, baking powder, baking soda and salt. Mix with a spatula. Using a hand-held mixer, add the vegetable oil, sour cream, tangerine juice and zest. Mix until well combined. Divide the batter evenly into the pans. Bake for 25 minutes. Remove from the oven and let cool completely before frosting. (Think of your favorite Fruit of the Month Club as you proudly serve this to family and friends!)
KIWI
KIWI — This fruit was discovered in China, where it was considered a delicacy by the great Khans. It found its way to other countries by the mid 1800's. First called the Chinese Gooseberry, New Zealand growers introduced this exotic fruit to specialized market places around the globe.
A California produce dealer with a penchant for Kiwi began importing New Zealand Gooseberries in 1962, and promptly re-named them "Kiwifruit," thinking there was a great resemblance between the fuzzy fruit and the fuzzy brown kiwi bird. Today, the state of California produces nearly 98% of all Kiwi grown in the United States.
How do you eat a Kiwi? Perhaps the easiest way is to rinse the fruit, then slice the kiwi lengthwise with a sharp knife. Use a spoon to scoop out the delicious flesh from each half. Even more nutritious, the skin of the Kiwi is totally edible.
Ripening & Storage: If the outside of the fruit "gives" with slight thumb pressure, it is ripe and ready to eat. Ripen firm Kiwi at room temperature. They keep several days at room temperature and up to four weeks refrigerated.
KIWI QUICK BREAD
2 cups all-purpose flour
1 teaspoon baking powder
1/4 teaspoon baking soda
1/2 teaspoon salt
1/2 cup softened butter or margarine
2/3 cup sugar
2 eggs
1 cup peeled mashed kiwi fruit
Preheat oven to 350°F. Grease and flour a 9 x 5 x 3 loaf pan. Sift first four ingredients and set aside. In a large bowl cream butter and sugar until light and fluffy. Add eggs one at a time beating well after each. Stir in kiwis. Fold in dry ingredients, stirring just until batter is completely moistened. Spoon into pan. Bake for 55 – 65 minutes, until toothpick inserted in middle comes out clean. Cool for 10 minutes on a rack before removing from the pan.