Clubs of America introduces Bent River Brewing Company, a concept conceived by Tim Koster of Koski's Home Brew Fixins. A staunch defender of quality brewing, Koster gathered support for his vision and in 1997 Bent River opened its doors. It would be another 2 years before the first keg of Pale Ale flowed from the beautifully polished Bohemian Brah Haus copper kettles.
With the help of determined investors and the dedication of Tim and the Bent River crew, the dream became reality. Today, Bent River produces over 10,000 barrels of award-winning beer annually. Attention to detail has garnered yearly awards at brew competitions throughout the Midwest and includes a second place finish at the world-renowned Great American Brew Fest!
In 2009, local restaurateur and friend of Bent River, Joel Krogman, joined the team, continuing the great brewing traditions while adding new events and great new menu items. The "River Staff" stubbornly remains dedicated to producing quality handcrafted beers that capture the spirit of traditional brewing.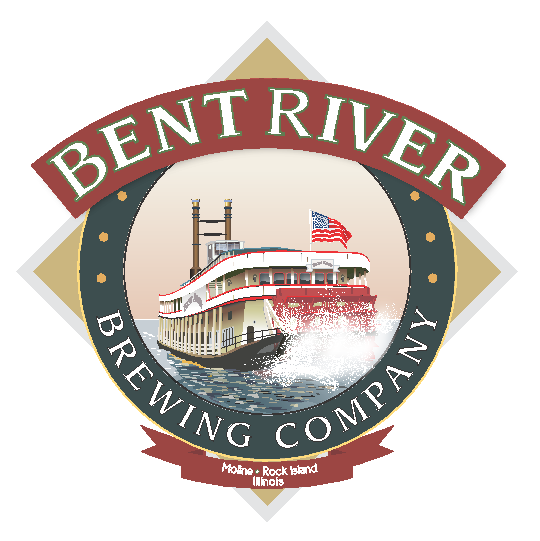 Today, patrons of Bent River enjoy the history of this century old building, the best brews available, and awesome food. Their Rock Island Brewery and Tasting Room opened in May of 2012 and houses Bent River's bottling line and distribution center. You'll find a full bar, private party room and special events. The Moline Brewpub has been in business since 1997, brewing award-winning craft ales and lagers, and offers both a dining room and a beer garden.
Paddle Wheel Pale Ale is compared to a Pre-Prohibition American style beer – full bodied with a well-balanced hoppy finish.
Uncommon Stout is a unique brew, their top seller. They infuse their Oatmeal Stout with some of the country's best coffee to make this award-winning medium-bodied ale.
Featured Beer from Bent River Brewery: Paddle Wheel Pale Ale and Uncommon Stout www.bentriverbrewing.com
Again this month, Clubs of America is shipping four more of the very best ales to your door. As you know, ales are top-fermented beers, the oldest of all brews. Ales tend to be stronger than bottom-fermented beers, and are found in many colors and characters. Feed us your feedback! Which is your favorite?
PALE ALE – Bent River's Paddle Wheel Pale Ale – A truly noteworthy ale, serve it cool (not cold – about 55 degrees F. is perfect) with chicken, fish, pasta, pork and Oriental foods.
STOUT – Bent River's Uncommon Stout – A close cousin to the Porter, Stouts have a roasted coffee-like flavor not found in Porters. This is the brew most recommended by doctors for nursing mothers – really! With its coffee nuances, it's a ringer for pairing with French Vanilla ice cream and all things chocolate.