In days gone by, a cigar was just smoked. After a hard day at work, you would sit back and light up while letting the stress of the day disappear. While it had a great taste, it was still bland and boring. For years, it appeared as if that was the way cigars would always be. Then one day, flavors of all kinds started to be added to your favorite smokes. All of a sudden, a whole new world was available when lighting up. Flavors such as vanilla, grape, chocolate, coffee and more were at your beck and call. We've tried lots of these flavors and have found some that are simply irresistible.
Moontrace
A cigar flavor that's very popular, Moontrace has a very cool vanilla flavor that makes it taste fantastic. For those of you who have smoked many flavored cigars, you may detect some flavors of bourbon, fruit and honey in this brand. The most widely smoked brand, this cigar takes all these flavors and combines them into a sweet taste that's hard to resist.
Bella Vanilla Robusto
This is a great cigar to smoke if you enjoy a milder flavor and an aroma that will not bother non-smokers around you. With a vanilla taste that's sweet but not too sweet, it's a great starter cigar for those wanting to try a flavored option. We've tried this cigar and found that they give off just the right amount of aroma without overwhelming you.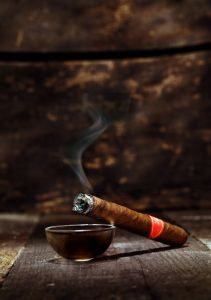 Corona Dulce
For many of us, two of the best things in life are a cigar and coffee. If you're smoking the Corona Dulce, you're able to get the best of both worlds. A product of Nicaragua, this cigar is made so that the longer it's smoked, the more the taste and aroma of coffee and espresso beans comes through. We've found that the coffee taste is very strong, so be sure you really like coffee before you start huffing and puffing. For those of you who may not like sweet cigars, this is a perfect alternative.
Fruit Flavors
Growing in popularity, fruit-flavored cigars are now available in almost any flavor you can imagine. Some of the most popular flavors on the market include:
Coconut
Apple
Cherry
Peach
Mango
Many cigar aficionados love these fruit flavors, and many smokers switch off between various flavors or find one they like and make it a part of their daily routine.
Liquor Flavors
If liquor is more to your liking, there is a cigar flavor out there for you. Many companies today will sell you a cigar flavored like whiskey, brandy, rum and Sambuca. If you are a true connoisseur, there is even a cognac-flavored cigar that's sure to please your taste buds. Since many people like to have a drink while smoking, this is a way to combine both activities into one. Making for a very pleasant smoking experience, we highly recommend giving it a try.