In 1979, two CU professors applied for and received the 43rd brewing license issued in the United States, creating Boulder Beer Company, Colorado's first microbrewery. The original site was a small farm where the brewhouse shared space with a few goats. Early on, the brewery won industry and consumer accolades for its line of bold Boulder Beers. Five years later, they moved to their current site in Boulder, expanding from the original one barrel system to a 50-barrel brewhouse with top-of-the-line packaging equipment. Today, they have the capacity to produce 43,000+ barrels of award-winning beer annually. The first microbrewery to reach that milestone, they are poised to celebrate their 35th anniversary soon.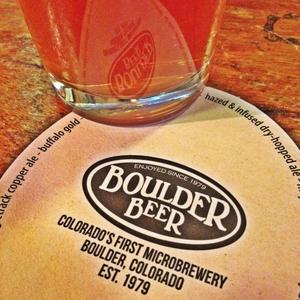 In 1990, the brewery was purchased by Gina Day and Diane Greenlee, who expanded the small tasting room into a full service restaurant and pub. Since 1992, Boulder Beer (under the hand of Brewmaster David Zuckerman) has won more than forty awards and citations for excellence in packaging, brewing and business practices. Long-time General Manager Jeff Brown became President of Boulder Beer in 2002. By the spring of 2003, the complete family of Boulder Beers was reintroduced and repackaged, followed by the successful launch of a new line of specialty beers.
Boulder Beer is dedicated to keeping our planet a green, clean, happy and healthy place through the use of solar energy, energy conservation, maximum efficiency machinery, composting and recycling. Clubs of America proudly presents:
Planet Porter is a remarkably smooth ale, very dark in the glass. Generous servings of black malt give this brew a hint of coffee. From their oldest recipe, dating back to 1979!
Hazed & Infused Dry-Hopped Ale is an unfiltered, flavorful, aromatic brew with a full mouthfeel and smooth, easy finish.
Featured Beer from Boulder Beer Company: Planet Porter and Hazed & Infused Dry-Hopped Ale
Again this month, The Great American Beer Club is shipping four more of the very best ales to your door. As you know, ales are top-fermented beers, the oldest of all brews. Ales tend to be stronger than bottom-fermented beers, and are found in many colors and characters. Give us feedback – which is your favorite?
ALE – Boulder's Hazed & Infused Dry-Hopped Ale – An unfiltered brew, it's "hazed" in its natural state, and "infused" during dry-hopping with hops, creating a unique aura that's perfect for just sitting back, relaxing and getting hazed!
PORTER – Boulder's Planet Porter – A meal in itself, porters (members of the ale family) were first brewed to fortify the hard-working laborers, including the porters! Smoothly drinkable, it goes well with all shellfish, cold cuts or heavier cuts of beef.