Your mother is one of the most influential people in your life, and Mothers' Day is the perfect time to honor her in a special way. Candy and other sweet treats are some of the most popular gifts on this holiday, and you can thrill your mom this year by giving her something special and delicious.
Consider Her Preferences- If you're giving the gift of chocolate to your mom this year, it's important to consider her preferences. Some women love the intensity of dark chocolates while others prefer creamy milk varieties. Your mom might prefer plain chocolate while your grandmother loves candy that's filled with nuts, fruits and other goodies. Make sure you keep your loved ones' preferences in mind while you are shopping. If you're not sure of which type to buy, getting a sampler is a great way to provide many different flavors at once.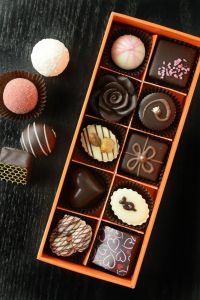 Find Quality Chocolates- Whether you are shopping in a grocery store, a specialty store or online, it doesn't take long to realize that chocolates come in a vast array of prices and flavors. Regardless of the type of candy you are purchasing, you want to make sure that the quality is good.
Follow these steps to check for quality prior to making a purchase:
Read the list of ingredients and be wary of candy that is made up of more than five items.
Check the cacao percentage. Dark chocolates should be over 70 percent cacao, and milk chocolates should contain at least 60 percent.
Make sure the candy has a light sheen and no white or discolored spots.
If possible, sample the candy to make sure that it melts in your mouth with a smooth texture.
Package the Gift in a Creative Manner- Once you find the perfect candy, you can focus on the presentation of your gift. Instead of just giving your mom a gift bag filled with sweets, package your gift in a creative manner. You can put your candy in a coffee mug, decorative tin, small basket or another beautiful and functional item. The possibilities are endless! Carefully arrange the treats in an attractive manner, and accent the gift with accessories in your mom's favorite colors.
Include a Heartfelt Message- After your gift has been purchased and carefully arranged, do not forget to include a heartfelt message. Chocolate is a wonderful gift, but your mom would also love to know how much you care. You don't have to be a professional writer or a poet to compose a meaningful note. You just need to be honest about how much you appreciate your mother and the impact she has had on your life. If you don't know where to start, think of specific ways your mom excels, funny stories from your times together or other things that will bring a smile to her face.
Your sweet words and high-quality, delicious chocolates will make the perfect Mothers' Day gift when they're combined!