Many times, events such as weddings, parties and conventions can consist of the same activities year after year. But if you really want to spice up a gathering, try hiring a group of cigar rollers to be part of the entertainment. One of today's hottest trends, cigar rolling is rapidly becoming a must-see at corporate outings, golf tournaments, bachelor parties and countless other events.
What is Cigar Rolling?
Just as it sounds, it's the process of making a cigar from scratch. Considered a true art form in such areas as Cuba and the Dominican Republic, cigar rollers from these and other nations use a combination of Cuban seed and Dominican-grown long leaf filler to create masterpieces of differing gauges and lengths. To make the event even more memorable, the cigars can be customized with your event's name or company logo, which adds another dash of sophistication.
Hosting a Cigar-Rolling Event
These events are becoming increasingly popular, as more people are finding their fascination with cigars to be a very pleasant one. If you're planning a wedding, you can count on cigar rollers to keep people entertained. At most weddings, there is always down-time before and after the ceremony, so adding this activity gives your guests something unique with which to be involved.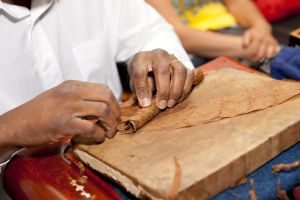 These performers are not just craftsmen but storytellers as well. These men and women know how to entertain a crowd, and will wow you with their stories and knowledge of cigars. Many have been honing their craft since childhood, and they have a lifetime filled with interesting stories that can keep guests captivated for hours. This makes it especially appropriate for golf tournaments and corporate events. Networking is key, and exposure for your company is vital. Having a unique event such as this is sure to make you easy to remember by customers and clients.
How to Hire Cigar Rollers
Hiring cigar rollers for your next event is easy. We've found many places that have expert cigar rollers for hire, and all of them seem to be have just the right combination of expertise and entertainment. The best cigar rollers realize theirs is a true craft and art that captivates both smokers and non-smokers. They are great at conveying the skill that goes into making their products while blending in stories that are humorous and sure to keep you interested all day.
When you're ready to see some cigar rollers in action, you can simply turn on your television to see what it's all about. Stories of these businesses have been turning up lately on networks all over the small screen including:
So if you're in charge of planning a wedding, golf tournament or company event, consider the services of cigar rollers. It's an unusual and interesting experience that your guests will be talking about long after your event has ended.