Easter lily history is a fascinating series of stories and facts about how the magnificent trumpet-shaped flower became a joyful symbol for Easter. This fragrant flower has won the hearts of millions and is the main flower in Easter floral arrangements. Although Easter lilies only have a sales time of about two weeks every year, they are the fourth most popular of America's potted plant crops and are among the favorite of all blooming plants.
The history of the Easter lily includes legends, folklores, literature, mythology, poetry and art that show how this majestic flower became such a beacon of hope and rebirth. According to Roman mythology, when Juno Queen of the Gods nursed her son Hercules, part of her excess milk created the Milky Way galaxy and the rest fell from the sky to create lilies on earth. It is also written that when the tomb of the Virgin Mary was found empty three days after her burial, only bunches of magnificent white lilies were present. Some of the traditional Easter stories include the mention that white lilies were found growing in the Garden of Gethsemane where drops of Jesus Christ's sweat fell onto the ground in his final hours.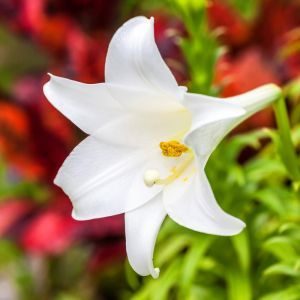 The snow white lily has come to commemorate the resurrection of Jesus Christ. On the first Sunday after the first full moon every year, churches and their altars are filled with these exquisite flowers. The buried bulbs represent Jesus' tomb, and the white flowers that grow from those bulbs symbolize His life after his death. The white color stands for His purity and the joy of the resurrection, and the trumpet shape is connected with Gabriel's trumpet call of rebirth.
In 1919, a World War I soldier named Louis Houghton returned to Oregon's southern coast with hybrid lily bulbs from Japan's Ryukyu Islands. He presented them to friends and family to plant along a few miles near the California border. The mild climate all year round created by a protective bay, abundant rainfall and rich soil made the area ideal.
By 1945, a very large number of west coast growers began to toil all year long to produce nearly all the superior-quality bulbs on the market from which the large flowers bloom. Today, more than 95 percent of the potted Easter lilies in the world come from this Easter Lily Capital of the World, which is accessible only by a winding and narrow highway that overlooks the scenic Pacific Ocean.