Around the world, a day of love and honor for mothers is commonly celebrated in the spring. In the United States, Mothers' Day falls on the second Sunday in May, which in 2014 is May 11. First celebrated in the U.S. in the early 20th century, in 1914, the holiday was given official sanction by President Woodrow Wilson. Since then, the second Sunday in the month of May has been devoted to showering mothers with festive gifts and activities designed to make her smile. Typically, mothers are given flowers and cards, taken out for a special meal and pampered on this day.
Traditional Mother's Day Offerings
There are many traditional offerings on this holiday, including gifts of flowers and plants, perfume, luxury bath items, chocolates and jewelry. Often, homemade or crafted presents are the most treasured later in life. Handmade cards, soaps, baskets and hobby boxes are just a few of the ideas you can find in craft books and online. Another great idea is to put together a gift basket that contains Mom's favorite snacks, plan a wine and cheese party, pack a romantic picnic or cook a sumptuous dinner. A certificate that frees her from a day of chores is a nice recognition of all the work she does.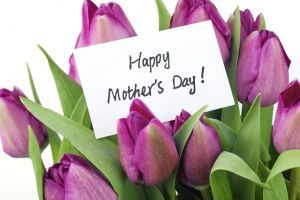 It is the Sentiment that Counts
It isn't always necessary to spend tons of money to show appreciation for Mom. Moms are most intuitive when it comes to reading the affection and respect found in even the most humble of offerings. The love contained in a crooked, off-center, garishly painted clay vessel is often more keenly felt than the most expensive diamond that money can buy. A crafted item displays several qualities, including a willingness to commit time to making something unique that is based on a consideration of what pleases her. Even when its burnt eggs and toast, breakfast in bed served by a proud child is more palatable than the finest caviar because love shines through the charcoal.
One Sure Bet for Mother's Day Bliss
While handmade crafts and tokens of esteem are indeed treasured, the most appreciated demonstration of love for Mom is flowers. Bouquets can be gathered from any of the seasonal blooms available in the spring, including Tulips, Daffodils, Sweet Peas and Snapdragons. Of course, the traditional bouquet florae such as Roses, Carnations and Lilies will be available at florists. Some less traditional blooming options are Cosmos, a purplish wildflower in the daisy family that is native to Mexico and the Southwestern U.S.; Watsonia or Bugle Lily, endemic to South Africa but available widely at florists; and Limonium, also known as Sea-Lavender or Marsh-Rosemary, found widely around the world.
Mothers' Day is fast approaching, and plans to show love and respect must be made. Whether it's perfume or soap, chocolates or a handmade gift, if accompanied by a bouquet of flowers, it's sure to touch your mother's heart on this festive day.