All types of chocolate are derived from cocoa or cacao, and most varieties can be identified based on the amount of cocoa used in the formula. The raw material is typically finely powdered and mixed with fat like cocoa butter to produce a delicious confection. With so many different flavors available, these are a few of the outlandish and quite scrumptious cocoa flavors that you can try.
Black Pearl Bars
These delicious chocolate candies include black sesame seeds, wasabi and ginger mixed with delicious milk chocolate. While you may think this is quite a weird combination, it's considered one of the most delicious chocolate flavors in the world.
Lavender Truffles
Dark chocolate typically has a richer, more bitter flavor than milk chocolate because no milk solids are added. When dark chocolate is infused with sweet lavender and cardamom, it creates an amazing flavor that will drive your tastebuds to heaven.
Goat Cheese and Pear Bonbon
This dark chocolate treat is mixed with Pear Williams brandy, butter cream and crushed black pepper. This is one of the fanciest of all chocolates sold in the world, and it does require a refined palette to appreciate the delicate notes of rich chocolate and spicy pepper.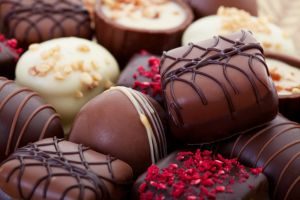 Raspberry Pink Pepper Truffles
The black truffle has an earthy undertone that mixes with a variety of different cocoa flavors. For raspberry pink pepper truffles, a raspberry puree combines with ground pink peppercorns to create a deliciously sweet yet exotic flavor of candy.
Smoke and Stout Caramel Bar
What's better, beer or chocolate? Some genius decided to combine these flavors into one delicious confection called a Smoke & Stout Caramel Bar by Vosges, a dark chocolate bar dripped with burnt sugar caramel. A toss of Alderwood-smoked salt and Rogue Ale's chocolate stout beer complete the mixture to deliver a powerfully sweet yet inventive taste that may be a real mind-altering delight.
Lemon Grass Ganache with Peppercorn
A ganache is a type of coating, icing, filling or sauce that is made from chocolate and cream. You haven't tasted something truly out-of-this-world until you've had a lemon grass ganache created from white chocolate ganache, a dash of vodka and flavorful little peppercorns. The lemon grass adds to the specialty of the chocolate's flavor.
Kaffir Lime Chocolate
A kaffir is a fruit native to India, Nepal, Philippines and other East Asian countries. It has a citrus flavor that when combined with cocoa powder brings out a delicious, exotic and sharp flavor. A kaffir lime chocolate is typically a dark chocolate bar with a caramel filling dotted by kaffie lime leaves. These are just a few of the exotic and extraordinary types of chocolate found throughout the world. Have you ever tried a different type of chocolate? What was the flavor like?