When spring is quickly approaching, many people are anxious to get outdoors in the warmer weather. The use of springtime flowerbeds can offer beauty and value to a space, so many homeowners are choosing to prepare their outdoor spaces for their upcoming spring landscaping.  Getting started may be a bit challenging for some, but using a few key steps will offer enormous improvements to a home's spring landscaping.
Clean Up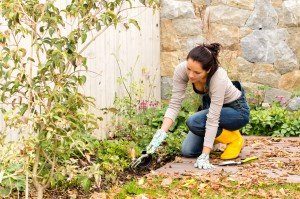 The process of cleaning up the existing flower beds is the first step to creating new springtime flowerbeds. Older, outdated landscaping elements must first be removed before anything new is implemented. If perennials are present in the flowerbeds, this will require pruning in the fall. Existing annuals will all need to be removed as well.
Foundation
Creating a foundation is the next step for getting the flower bed ready for spring planting. The existing soil will need to be tilled to ensure there are no underlying root issues. Next, weed prevention is necessary. This can be completed by spraying a weed killer or applying a layer of weed prevention fabric or material. The method will depend on the owner's preference. However, many owners prefer a natural weed killer without a fabric for a more appealing look. Soil will then be installed on top of the bed that has been treated for weeds.
Installation
Installing the preferred plants and flowers is the fun part of creating springtime flowerbeds. The spring is a great time for planting perennials that will bloom in the later months of spring and summer. However, the spring is also an opportunity to add colorful annuals such as pansies, which thrive in most climates. Once all the desired plants and flowers are installed, a layer of mulch on top of the flower bed and around the plants will be necessary for ensuring that all landscaping elements will hold moisture.
Maintenance
Once a spring flowerbed has been created, homeowners must make sure to not forget about it. Proper maintenance will be necessary to make sure the flowers and plants last through the spring and into the summer and fall. Weeding should be done once a week by hand and owners should water every few days to ensure the plants are receiving the proper amounts of moisture. Homeowners should also inspect the plants to determine if animals or bugs are eating the landscaping elements.
The winter months and extremely low temperatures are almost gone, and most people are anxiously awaiting spring. Choosing to get the beds ready early will ensure a smoother installation of new, colorful and vibrant spring flowers.