Loyalty to one's regional pizza is admirable, but you may be missing out if you don't indulge in all that American pizza cuisine has to offer:
NEW YORK STYLE: In the East, predominantly labeled "New York Style," is the traditional Neapolitan type — boasting a light, thin crust and sizzling toppings. A big seller as a quick lunchtime food, it's sold widely by the slice.
DEEP DISH CHICAGO STYLE: We in the Midwest are rarely caught eating that flimsy New York stuff. Being a hearty lot, our favorite is our home-town Chicago Style Deep Dish — a classic thick creation heaped high with toppings (the more the better!). There are no dainty appetites in the Midwest when it comes to pizza as this style is a real "rib sticker." It's too good to be served only a slice at a time, so it can usually be purchased only in whole pies. It's always worth the half-hour or so wait for it to bake.
CALIFORNIA STYLE: On the West Coast, they scoff at the robust Chicago style and totally ignore the New York style in favor of their very own. There, the trend toward a more refined, lighter fare is an extension of the California Cuisine revolution. Individual pizzettes, with light, chewy crusts adorned with toppings made from combinations of the best imported Italian products and indigenous California ingredients are the hallmarks of this sophisticated pizza. A bit more pricy as a rule due to the elite ingredients, California Style pizza is sold both by the slice and the pie.
THE RENEGADES: To round it all off, New England and Tex-Mex styles have a healthy following. Expect abundant seafood with white sauce from New England; while chili peppers, hot spices and salsa-style sauces will be at the forefront in the Tex-Mex arena.
OLD TIME CHARMERS: Curious what traditional pizza from the 40's era was like? Little has changed in the few old quaint pizzerias still to be found in Boston, New York City and New Haven.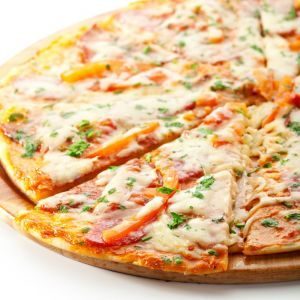 Take a Close Look at this Month's Pizza Selections . . .
Please see individual pizza labels for how to bake the perfect CHICAGO DEEP DISH PAN CRUST PIZZA.
PINEY SHRIMP GOURMET PIZZA A special treat for all seafood lovers, it's laden with fresh shrimp, pineapple chunks and sharp Cheddar cheese. The sauce is The Gourmet Pizza Club's signature tomato-based sauce with onions, garlic, spices, Romano, oils and a kiss of Chablis wine.
EMY'S MEATBALL GOURMET PIZZA This creation from Emy features a marriage of our famous tomato-based sauce (onions, garlic, spices, Romano, oils and Chablis) and her great spiced sliced ground beef meatballs. A cheesy blend of Mozzarella and Parmesan adds the finishing touch.
A.S.A. GOURMET PIZZA = Asparagus (fresh and sliced), S = Spinach, and A = Artichokes. Combined with our lavish sauce made of heavy cream, Romano cheese, eggs and butter, it all adds up to an unusually good, rather sophisticated pizza treat!