There are many lists out there that brag about the best iPhone apps for beer lovers; however, none of them seem to capture the full picture. This list of beer apps below covers the spectrum from novelty to educational, from fashionable to functional. Yep, pooling the best beer apps from across the Internet into one comprehensive list, we bring to you, the ultimate list of beer apps.
iBeer
The king of all beer apps, iBeer is a simple novelty program that simulates the appearance of a cold bubbly beer in your hand. Much like the candy cigarettes of old, this app is built to be the next best thing when an actual beer is nowhere to be seen.
Beer Cloud
Putting novelty aside, Beer Cloud is an impressive app for beer enthusiasts alike. Boasting many great features, Beer Cloud allows users to locate their favorite beers in their area, pair brews with foods and even access a full description of any beer by scanning its barcode. Ideal for helping you find the perfect brew for any occasion and ultimately pointing you where to find it, this app is brilliant.
iBeers Pro
For only $3.99 USD, the iBeers Pro app puts over 2,700 beers at your fingertips and lets you sift through the clutter to find one the suits you best. Within this extensive database you'll find everything you need to know about the many beers of the world including where they're made, their ingredients, alcohol content, user rating, bottle sizes, etc.
Beer Battery
This might be considered more of a novelty app that lacks the function that the other beer apps provide, but the Beer Battery is a beer lovers delight nonetheless. The app is simple; when your phone's battery is full, the glass of beer on display is filled to the brim; however, as your battery depletes, so does the beer in the glass. Who needs cryptic bars to tell you your battery power when there's beer to do the job?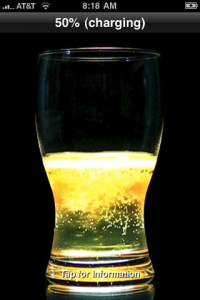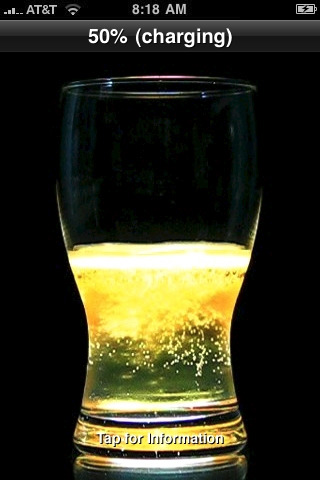 IMG SOURCE: http://inovasi-mobiles.com/wp-content/uploads/2010/08/8423d50d83195796.jpg
Gallagher's Beer Guide
For those interested in beer appreciation, rather than simply guzzling it for sake of drunkenness, Gallagher's Beer Guide is an educational app for you. For only $0.99 USD, this robust app offers all kinds of information about craft beers and their unique features such as styles and distinct flavors – as a bonus, the app also includes a note pad for keeping track of your favorites!
iBrewMaster
If you've ever been curious about the brewing process itself, iBrewMaster is a unique app that was built to help home brewers manage the entire brewing process. Complete with recipes, ingredient IDs, timers, metric conversion software and more, the iBrewMaster app is perfect for anyone interested in the craft of brewing.
brew master
Beer Hero
While many beer apps can offer information about the beers themselves, it takes a special app to tell you where to find them – Beer Hero to the rescue! For just $1.99 USD, Beer Hero can tell you everything you need to know about your favorite beers; however, in addition, it provides GPS assistance for locating your beer of choice through a database of breweries and distributors.
Drink Fit
As college freshman around the world can tell you, beer has a tendency to help you pack on the pounds. That said, Drink Fit is a functional app that provides comprehensive nutritional information for your favorite beers and over 1,600 other kinds of cocktails, wines, etc. In addition to calculating your calories one drink at a time, you can also keep track of your total caloric intake during a binge by using the My Night feature. Of course, in this arena, ignorance is sometimes bliss.
drink fit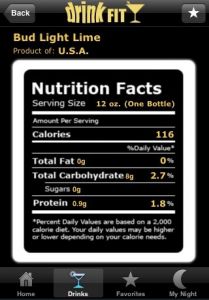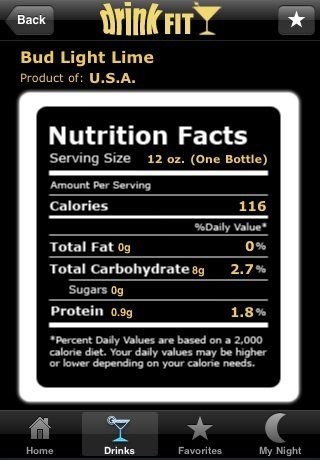 IMG SOURCE: http://2.bp.blogspot.com/_Bnd2XJeUJaQ/S-DgzJyfA5I/AAAAAAAAAgU/Xa9VMZ8OEvc/s1600/drink+fit.jpg
Beer Match
No this isn't a dating app that will pair you up with that special someone that shares your same beer of choice, instead it's an app dedicated to pairing beers with ideal foods and cheeses. Beer Match is a handy-dandy app that pairs 31 styles of beer with their most complementary foods in an effort to maximize the dining experience.
B.A.C. Calculator
The B.A.C. Calculator is an app that estimates your blood alcohol content based on the number of drinks you've consumed in comparison to your body weight and the duration of your drinking binge. Whether you're using this to legitimately determine if you're legal to drive or simply trying to rack up the highest number amongst your friends, the results might surprise you!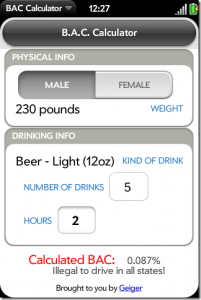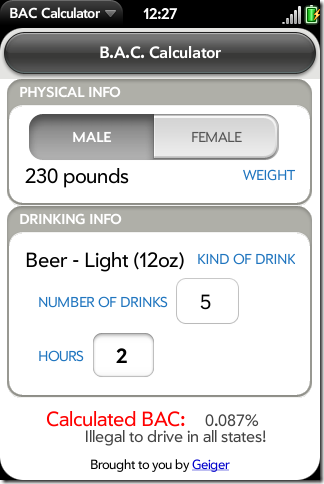 IMG SOURCE: http://www.jaygeiger.com/wp-content/uploads/2009/08/bacss.png
Drink Around the World
The official title is Drink Around the World at EPCOT because it's a handy app that helps you visit the EPCOT Center in style. If you plan to go to the World Showcase at Walt Disney World, this program helps you keep track of all the different drinks you've had in each simulated country and even sync pictures with the beverages for posterity!
NOVELTY HONORABLE MENTION:
While most of the apps mentioned above have some sort of functionality, it's worth mentioning a handful of absurdly pointless beer apps as well. That said, below are 4 apps that exist simply because they can rather than they should.
Beer Pong
Now that you've selected your favorite beers, learned how to make them, located where they can be purchased and paired them with a complementary entree, it's now time to get back to novelty. Beer Pong is a free app that will help you kill time while honing your hand-eye coordination and educating you on the nuances of the popular drinking game.
Beer Googles
It may not be as accurate as the B.A.C. Calculator but the Beer Goggles app is yet another way to determine exactly how drunk you are. This novelty app has you rate a number of models and based on your answers, it lets you know if you're seeing life through your beer goggles or not.
Beer Opener
The definition of pointless, the Beer Opener app is all for show. Offering no real value, this program simulates the bottle opening experience with various visuals and sound effects. That said, if you're ever bored, this app might keep you entertained for 8, maybe 9 seconds.
Beer Counter
Perfect for a man on a mission, this simple Beer Counter app has one function; to keep track of exactly how many beers you've consumed. With the simple tap of the screen you can document each and every bad decision you've ever made.
This article brought to you by Clubs of America's, Beer of the Month Club. Receive unique hard-to-find microbrewed beers each month like some of those featured in this story – a full 12-pack of rare craft beers (3 bottles of each style) from all over the United States, delivered to your doorstep. Makes a great gift!