Brighten Someone's day with Flowers
Flowers have always been a popular gift choice for any occasion. Birthdays, anniversaries, or just to say "thank you", they are the perfect gift. With the convenience of Clubs of America's Flower of the Month Club, it has never been easier to surprise someone with a beautiful bouquet of fresh flowers each month.  Here are some of the top reasons why flowers are the perfect gift.
A Timeless Gift
Used as a gift for centuries, the popularity of flowers has only grown over time. There's something timeless about the beauty of fresh flowers that makes them a gift that never goes out of style.
Versatile
Flowers can be given for a wide range of occasions, from birthdays to graduations, weddings to funerals. Whether you want to express love, gratitude, or sympathy, flowers are a versatile gift that can convey a range of emotions.
A Thoughtful Gesture
Sending flowers shows that you've put thought and care into your gift-giving. You've taken the time to order a beautiful bouquet from Clubs of America and have it delivered every month. This makes the recipient feel valued and appreciated.
They Bring Joy
There's something about receiving a bouquet of flowers that brings a smile to anyone's face. Flowers are a simple way to brighten someone's day and lift their spirits.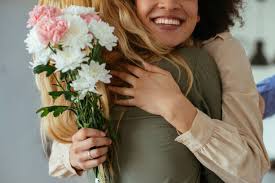 Convenient
Thanks to online flower delivery, you can easily send flowers to anyone, anywhere, at any time. You don't need to worry about going to a physical flower shop or arranging for delivery yourself. With just a few clicks, you can have a beautiful bouquet delivered straight to the recipient's doorstep.
A long-lasting gift
While flowers may not last forever, they can bring joy for days, or even weeks, after they are received. With proper care, a bouquet can last up to two weeks, and that means the recipient can enjoy the gift for a long time.
Delivered flowers make the perfect gift for a variety of reasons. They are timeless, versatile, thoughtful, joyful, convenient, and long-lasting. If you want to make someone's day, consider sending them a beautiful bouquet of fresh flowers from Clubs of America.